Global Top 10 Best Performing iOS Devices in November 2021
Unlike the Android market, which is about to see a new wave of flagship phones, the iOS market will spend the rest of 2021 quietly. Typically, Apple isn't likely to release any new devices until next year, and even if it does, it's impossible to beat the performance of the two iPad Pro 5 equipped with M1 chip, so the iOS performance list in November remains solid.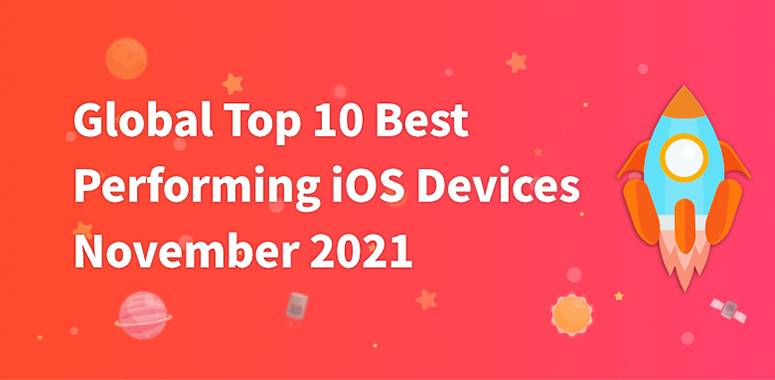 It should be noted that figures in this ranking list were calculated from November 1 to November 30, 2021. The results in the ranking list are average scores instead of the highest scores, and thus more representative. The scores in the list are mainly based on the Antutu V9 version and cannot be compared with the results of the previous versions.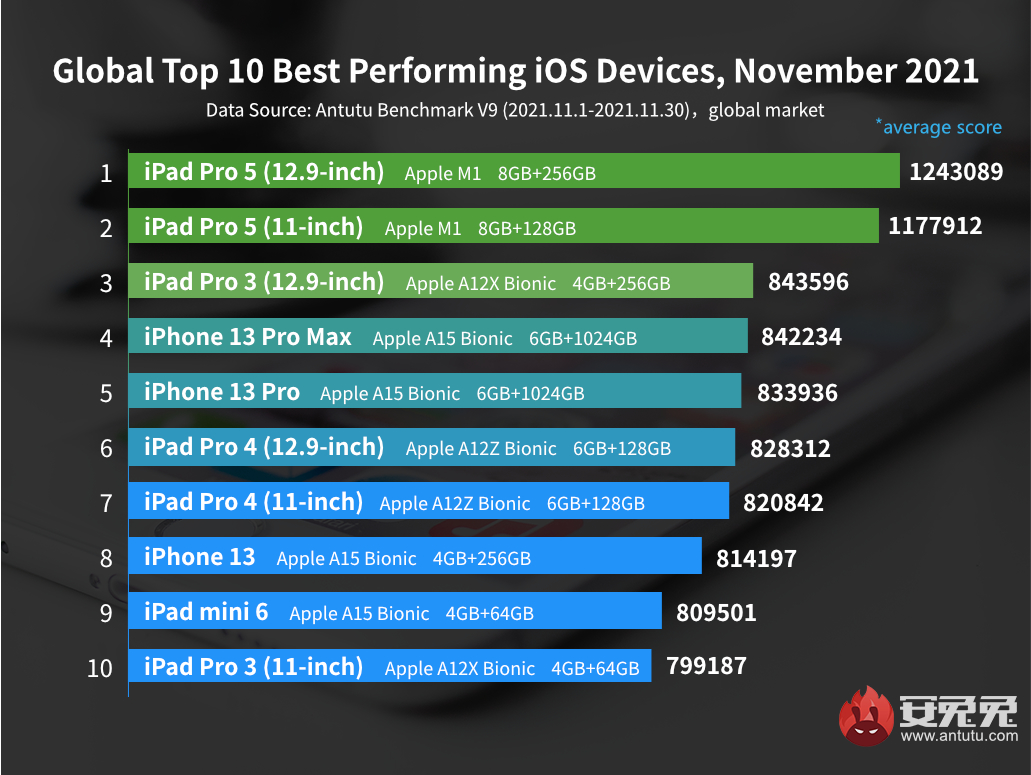 No.1: iPad Pro 5 (12.9-inch)
Average score: 1,243,089
No.2: iPad Pro 5(11-inch)
Average score: 1,177,912
The two iPad Pros with different screen sizes equipped with M1 chips are still firmly ranked first and second in the iOS performance list. The running scores of 1,243,089 and 1,177,912 are the most powerful proof of their performance. Although the Snapdragon 8 Gen 1 and MediaTek Dimensity 9000 also exceeded the one million mark, the systems of iOS and Android are completely different, the scores can not be compared with each other.
No.3: iPad Pro 3 (12.9-inch)
Average score: 843,596
The iPad Pro 3 (12.9-inch) finally took the No.3 spot back from the iPhone 13 Pro Max in November, before the release of the iPhone 13 Pro max, the third place always belonged to iPad Pro 3 (12.9-inch).
The device is powered by Apple's A12X processor, which was released in 2018. It has an 8-core CPU (four big cores, four small cores) and 7-core GPU, as well as a neural network engine with up to five trillion operations per second, uses TSMC's 7nm process and features 10 Billion transistors.
Whether it is taking online classes or playing games, iPad Pro 3 (12.9-inch) is still a very good choice in the current tablet market.
The following seven products are iPhone 13 Pro Max with an average score of 842,234, iPhone 13 Pro with an average score of 833,936, iPad Pro 4 (12.9-inch) with an average score of 828,312, iPad Pro 4 (11-inch) with an average score of 820,842, iPhone 13 with an average score of 814,197, iPad mini 6 with an average score of 809,501, iPad Pro 3 (11-inch) with an average score of 799,187.
October and November are generally the off-season for mobile phone production. Mobile phone manufacturers tend not to make big announcements in these two months as they are waiting for the release of a new generation of flagship processors to prepare for the flagship phone market next year. As a result, the performance ranking list doesn't change much during this transition period.
That's all for the November iOS Performance List, and we'll see you next month.