Global Top 10 Best Performing Android Phones, June 2020
Now we've entered July. In the past 6 months, no high-end mobile phones have been launched, only some entry-level or middle-range mobile phones. So, the products in the ranking list this time are quite familiar.
Today, according to the backstage product statistics sorted by Antutu, the list of Global Top 10 Best Performing Android Phones in June 2020 has been released. Now let's have a look at new phones and their rankings in June.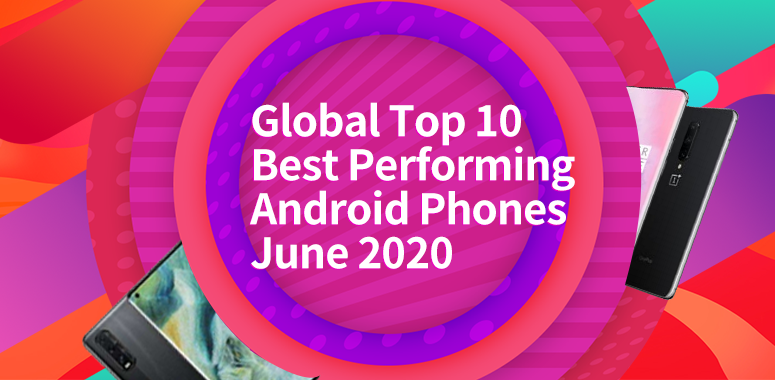 Same as before, we will release rankings of both flagship models and middle-range models at the same time. The rankings more depend on the SoC equipped.
The data collection period is from June 1 to June 31. The scores shown are all average scores, instead of the highest ones. For each model, over 1,000 items of product figures or statistics have been analyzed. The data are calculated based on Antutu Benchmark V8. 
1. Flagship Mobile Phones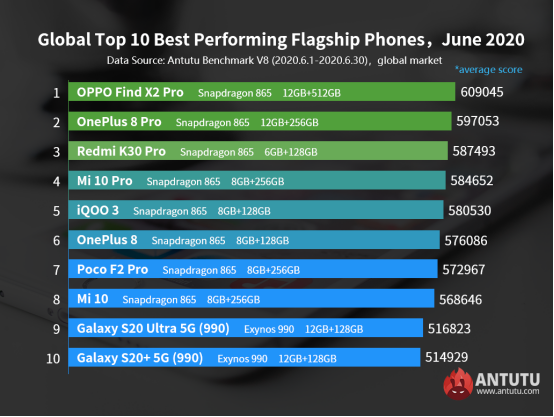 These products are not new, but this list has seen great changes this month.
First, the Top 1 is different. The first place in June is Find X2 Pro 12+512GB version, the flagship product of OPPO. With the average benchmark score of 609045, it becomes the one and only product with the score of over 600,000 in the list.
Find X2 Pro is featured by a screen of 3K resolution and 120Hz refresh rate. This phone applies punch-hole display, but the overall quality of this screen can be deemed as the best ever among all mobile phones available in the market. We can even say that the screen is ahead of time, so up until now, few companies can catch up with the pace fast enough. Of course, the user experience is of top level and users will feel reluctant to change back to other screens after using it.
The performance of OnePlus phones is always impressive. The original Android system is very smooth, so it has been spoken highly of for a long time. This time, the screen of One Plus 8 Pro is said to be the same as that of Find X2 Pro. By combining powerful software and hardware, the average score of One Plus is only 10,000 lower than that of the first-ranking product.
The third-ranking product is Redmi K30 Pro 6+128G, with the average benchmark score of 587493. Last month, this product ranked the second, but both its ranking and score decrease this month. Redmi K30 Pro is a Snapdragon 865 phone with a pop-up camera, which is not that common this year. Therefore, its screen is complete, without any hole punched. However, its refresh rate only reaches 60Hz, falling behind the mainstream. And because of the pop-up design of the camera, the body of the device is bigger.
Products ranking the fourth to the tenth are respectively: Mi 10 Pro 8+256G (average score of 584652), iQOO 3 8+128GB (average score of 580530), One Plus 8 8+128GB (average score of 576086), Poco F2 Pro 8+256GB (average score of 572967), Mi 10 8+256GB (average score of 568646), Galaxy S20 Ultra 5G (990) 12+128G (average score of 516823), and Galaxy S20+ 5G (990) 12+128GB (average score of 514929).
It can be seen that most of the Android flagship phones in the list are equipped with Snapdragon 865, and all of them are 5G flagship products. Only the last two Samsung phones still use their own Exynos 990 processor. But it is said that in the second half of this year, Samsung's flagship phones won't be equipped with its own Exynos processor, so it is believed that the performance will see some improvement.
2. Middle-range Mobile Phones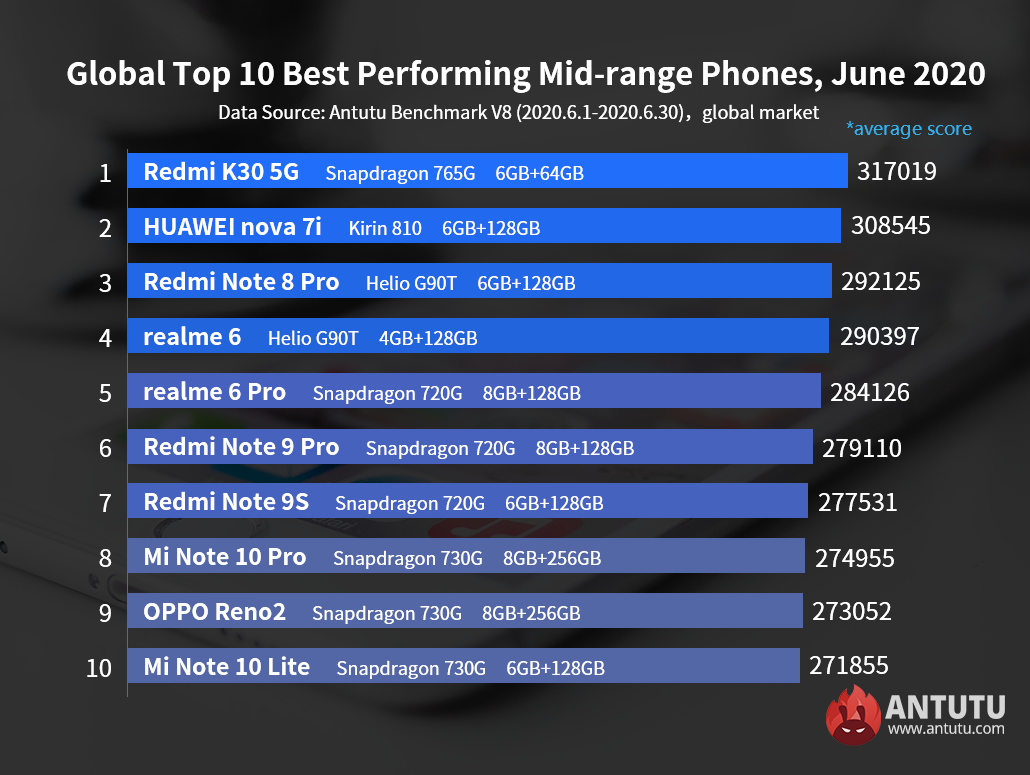 In the ranking list of best performing middle-range phones, the first place is still Mi's 5G middle-range model, Redmi K30 5G 6+64GB version, with the overall benchmark score of 317019. Huawei's new nova 7i 6+128GB version still ranks the second, with the average benchmark score of 308545 this month.
Redmi K30 5G, as the first mobile phone shipped with Snapdragon 765G processor, has been launched for about half a year. The sales price of this phone is decreasing to thousand-yuan level, but its performance is still recognized by the market.
The third-ranking phone is Redmi Note 8 Pro, which we're very familiar with. The average benchmark score is 292125. As an Android phone launched in August 2019, it's not easy that it is still among the Top 3 in the ranking list now. It can be seen that MediaTek's Helio G90T processor, with which it is first equipped, is a good choice.
The fourth place is the same as last month: the latest device of realme, realme 6. Same as the third-ranking Redmi Note 8 Pro, it is also equipped with MediaTek's G90T processor and has the average benchmark score pf 290397. The scores are very close, so users don't need to worry about the performance.
The seven products following next are in the order: realme 6 Pro 8+128GB (average score of 284126), Redmi Note 9 Pro 8+128GB (average score of 279110), Redmi Note 9S 6+128GB (average score of 277531), Mi Note 10 Pro 8+256GB (average score of 274955), OPPO Reno2 8+256GB (average score of 273052), and Mi Note 10 Lite 6+128GB (average score of 271855).
In the list of Global Top 10 Best Performing Android Phones in June, one noteworthy aspect is the changes in flagship mobile phones. Apart from the fact that they're all flagship 5G phones, it can be seen that phones equipped with the Snapdragon 865 processor have taken the Top 8, which is a proof that Snapdragon is definitely the most powerful company in terms of mobile phone processors. As for the list of middle-range phones, there is still only one middle-range 5G mobile phone which has been launched for about half a year. Manufacturers are supposed to launch more new products within this price range to secure a larger market share.