Global Top 10 Best Performing iOS Devices, January 2021
As time comes to February 2021, there willbe many points of interest in the mobile phone industry, because many newproducts will be released. As the pacesetter in new products to seize themarket share every year, Apple is no exception. However, there is a highprobability that Apple's new phones will be released in March. In this case,let's first take a look at the performance ranking of those products that Applehas released before.
Today, we have released the iOS DevicePerformance Ranking List in January 2021 according to the data collected fromthe backstage of Antutu, which is almost still in a stable state because of norelease of new iOS products, except for little change.
It should be noted that the data in thisranking list was calculated based on the iOS Antutu V8 and collected for aperiod from January 1 to January 31, 2021, with the results in the ranking listbeing average scores instead of the highest scores, which are morerepresentative.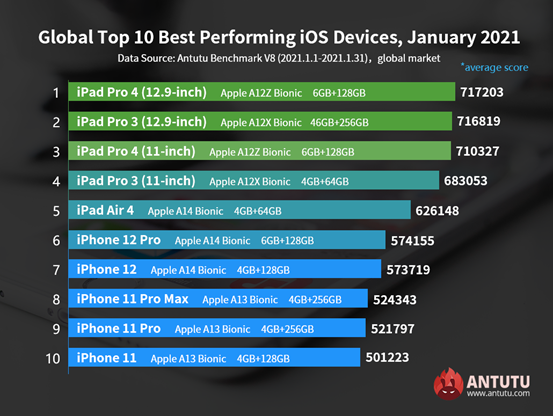 No. 1: iPad Pro 3 (12.9-inch)
Average score: 728,253
The iPad Pro 3 (12.9-inch), which rankedthird last month, became No. 1 in one fell swoop. As the largest iPad product equippedwith Apple A12X processor, of course, there is no need to say much about itsperformance. Even in the current Apple Store, it can be difficult for you tofind an App that it is hard to run. This time, its average score is over 9,000points higher than that in December 2020, which proves its strength once againand also shows that the gap between A12X and A12Z processors is actually verysmall.
No. 2: iPad Pro 4 (12.9-inch)
Average score: 719,476
Since the No.1 product has changed, iPadPro 4 (12.9-inch), the product that ranked No.1 last month, can only rank No. 2this time. In January 2021, its average score was 719,476, which was actuallyhigher than the average score of 719,226 last month. However, the score of theNo. 1 iPad Pro 3 (12.9-inch) improved too much, compared with 9,000 points, thegrowth of several hundred points is naturally unmatched.
No. 3: iPad Pro 4 (11-inch)
Average score: 713,177
IPad Pro 4 (11-inch) became No. 3 thistime, with an average score of 713,177, which was several hundred points higherthan 712,663 last month. However, because the score of No. 1 iPad Pro 3(12.9-inch) was too high this time, the No. 2 product last month was alsopushed to No. 3 this time.
All the above three products are powered byApple A12 series processors, including A12X and A12Z respectively. However thefinal results are not entirely processor-based, as the experience also dependson the real usage and the results are only for reference.
The following seven products are: iPad Pro3 (11-inch) (average score: 692,443), iPad Air 4 (average score: 650,153),iPhone 12 Pro Max (average score: 648,573), iPhone 12 Mini (average score: 620,690),iPhone 12 Pro (average score: 614,074), iPhone 12 (average score: 613,737), andiPhone 11 Pro Max (average score: 533,154).
Among the last seven products, except thelast iPhone 11 Pro Max, which is equipped with Apple's A13 processor, all otherproducts are equipped with Apple's latest processor A14.
With the 5nm-process-based technology and6-core CPU design, the CPU performance of A14 is improved by 40% compared with thatof A12 processor; with the 4-core GPU design, the GPU performance of A14 isimproved by 30% compared with that of A12 processor. Besides, A14 Bionic isalso equipped with the new 16-core Neural Engine, with which the number ofcores is doubled compared with the previous generation and up to 11 trillionoperations per second can be processed. Therefore, the machine learningperformance using this processor has been improved in a groundbreaking way.
In the first monthly iOS performanceranking list in 2021, except for the No. 1 iPad Pro 3 (12.9-inch) and the No. 5iPad Air 4, which have changed their rankings compared with last month, all otherproducts are still stable in their own rankings, indicating that iOS productsare so reassuring.