Global Top 10 Best Performing Android Phones, March 2022
The first quarter of 2022 has come to an end. The release of new flagships will gradually decrease after the first quarter, the ranking list of flagship phones in March can therefore basically represent the ranking throughout the first half of 2022. In contrast, the release of new mid-range chips and mid-range models is just starting to increase. After Qualcomm, Samsung and MediaTek upgraded their new flagship chips, the next generation of small upgraded flagships may also be released in the second quarter.
This ranking list for flagship phones mainly reflects the performance of each phone, as well as their market recognition and popularity.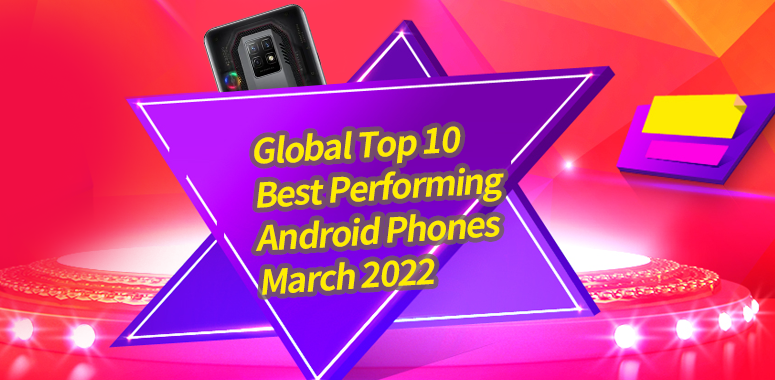 Let's take a look at the specific data of the March ranking list below. It should be noted that figures in this ranking list were calculated from March 1 to March 31, 2022. The results in the ranking list are average scores instead of highest scores, and thus more representative.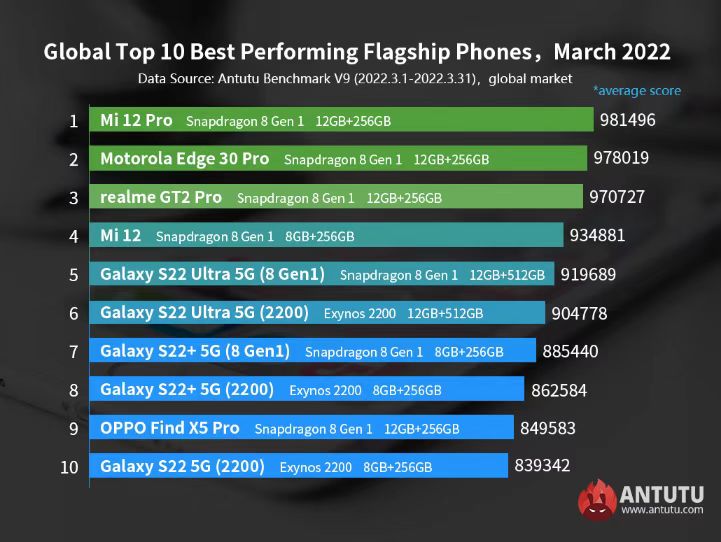 No.1: Xiaomi 12 Pro
Average score: 981,496
Despite being the second phone to be launched with the Snapdragon 8 Gen 1 processor, Xiaomi 12 Pro is still outperforming Moto Edge X30 in terms of sales and market recognition.
In addition to the Snapdragon 8 Gen 1 processor, it features a 6.73-inch AMOLED screen with a resolution of 3200x1440p, made from Samsung E5 luminescent material, which is currently the best screen in the industry apart from Samsung's own series.
In terms of imaging, Xiaomi 12 Pro is equipped with three 50-megapixel sensors in its rear camera set-up, one being a wide-angle, one ultra-wide, and a telephoto snapper with 2x optical zoom.
These configurations are enough to give the Xiaomi 12 Pro some market recognition in this year's Android phone market.
No.2: Motorola Edge 30 Pro
Average score: 978,019
The Motorola Edge 30 Pro is in fact the Moto Edge X30 released for the Chinese market, the two phones are identical in terms of specs and appearance.
Lenovo is looking to further open up its mobile market with the launch of its Snapdragon 8 Gen 1 flagship Moto Edge X30. Despite being one of the leading brands in the PC market, Lenovo's business in the mobile market has been less than stellar, many people don't even know it has mobile products and bought Motorola.
Lenovo not only first launched Snapdragon 8 Gen 1 processor, but also offered the lowest starting price in the industry at CNY 2,999. However, due to the lack of popularity in the mobile phone market, although the price may attract users, the ultimate success of Lenovo's strategy depends on various factors such as the Moto Edge X30's user experience.
No.3: Realme GT2 Pro
Average score: 970,727
The Realme GT2 Pro is arguably the most eco-friendly phone of 2022, with a recyclable bio-based material used for the back cover and the entire packaging. In addition, it has a high-quality straight screen that is rare to see in the industry. It attracts much attention with both the excellent parameters of a curved screen and the excellent user experience of a straight screen that a curved screen does not have.
Realme's phones have also been very good in terms of value for money. As the third phone equipped with the Snapdragon 8 Gen 1 processor, the starting price of this device is only about CNY 3,000, making it a very good choice for users.
The following seven products are Xiaomi 12 with an average score of 934,881, Galaxy S22 Ultra 5G (8 Gen 1) with an average score of 919,689, Galaxy S22 Ultra 5G (Exynos 2200) with an average score of 904,778, Galaxy S22+ 5G (8 Gen 1) with an average score of 885,440, Galaxy S22+ 5G (Exynos 2200) with an average score of 862,584, OPPO Find X5 Pro (8 Gen 1) with an average score of 849,583, Galaxy S22 5G (Exynos 2200) with an average score of 839,342.
The top 10 flagship models in this month's ranking list are all equipped with the latest processor in 2022. With Snapdragon 8 Gen 1 and Samsung Exynos 2200 both adopting the 4nm process, the mobile phone industry has achieved another upgrade.
It's a shame that there are no models equipped with MediaTek Dimensity 9000 on the list. The Dimensity 9000 also adopts the 4nm process and has received a lot of positive reviews. However, this chip was launched too late, only one new model powered by it was launched in March. We are expecting to see all three processors dominate the market together in next month's list.
The mid-range phone market continues to be dominated by the previous generation of chips, the Snapdragon 778G/780G, with a few MediaTek Dimensity models appearing.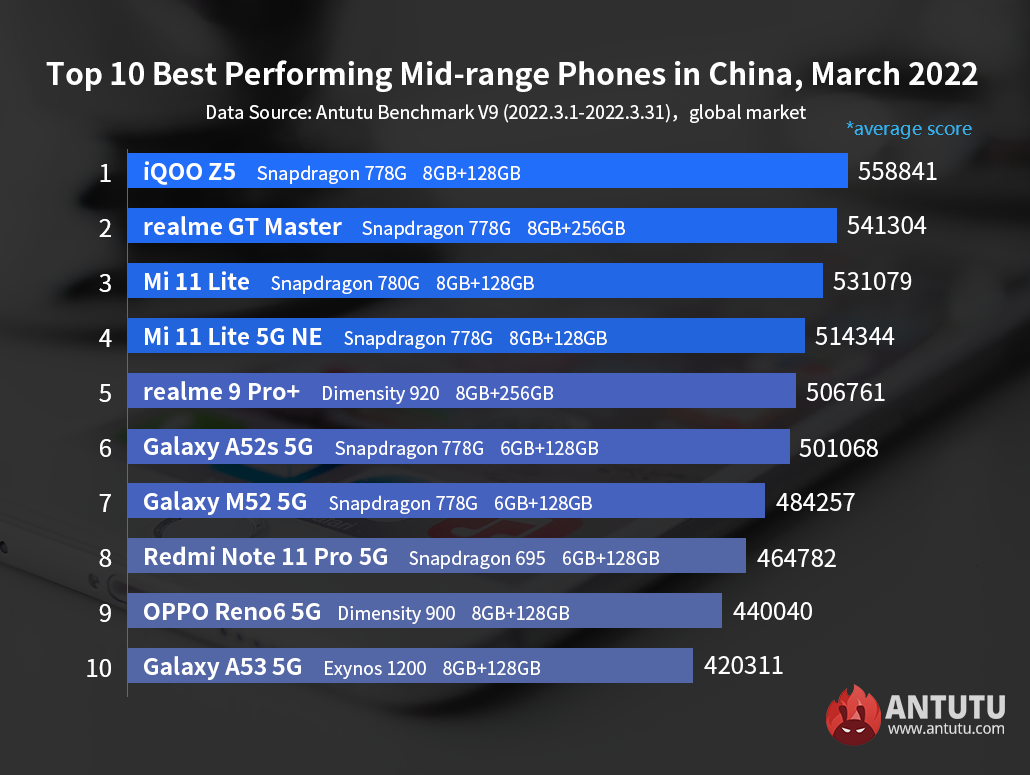 No.1: iQOO Z5
Average score: 558,841
No.2: Realme GT Master
Average score: 541,304
No.3: Mi 11 Lite
Average score: 531,079
The top three rankings are exactly the same as last month, with just a few hundred points of score fluctuation, which is quite normal.
The Snapdragon 778G was the only mid-range chip launched by Qualcomm last year, but some manufacturers are still launching new phones with this processor. The mid-range market seems to be getting less and less attention from Qualcomm, with mid-range chips being updated very slowly and phone manufacturers and users happy to see last year's flagship chips used directly as mid-range chips.
However, MediaTek has released two chips this year, the Dimensity 8000 and Dimensity 8100. The starting price of the new model equipped with these two chips has been as low as CNY 1,999. If Qualcomm still does not pay enough attention to the sub-flagship and mid-range market this year, the market share may be taken by these two chips from MediaTek.
The following seven products are Mi 11 Lite 5G NE with an average score of 514,344, Realme 9 Pro+ with an average score of 506,761, Galaxy A52s 5G with an average score of 501,068, Galaxy M52 5G with an average score of 484,257, Redmi Note 11 Pro 5G with an average score of 464,782, OPPO Reno 6 5G with an average score of 440,040, Galaxy A53 5G with an average score of 420,311.
Mid-range phones are equipped with a more diverse range of chips, with the Snapdragon 778G, Dimensity 920, Dimensity 1200 and Dimensity 900 all appearing on the list. But unfortunately, there are no longer any Huawei phones to be seen, along with the HiSilicon Kirin chips. Not sure when we will see new Huawei phones on the list again.
The new models powered by the Dimensity 9000 and Dimensity 8100 just hit the market in March, and more new models powered by these two flagship processors from MediaTek will be released in April. We will see whether Qualcomm's chip can continue to rank first next month.