Global Top 10 Best Performing Android Phones, June 2021
The new flagship phone market for the first half of 2021 has completely ended. Qualcomm Snapdragon 888 processor almost unified the flagship phone market in this first half of the year. The situation was totally different for other brands, although the two new MediaTek Breguet models were great, they were not selling well overseas. Huawei HiSilicon Kirin only had few models in the market and seems they are in a difficult position of having no new 5G machine to launch.
Several are happy and several are sad. Life is like this, so is the market.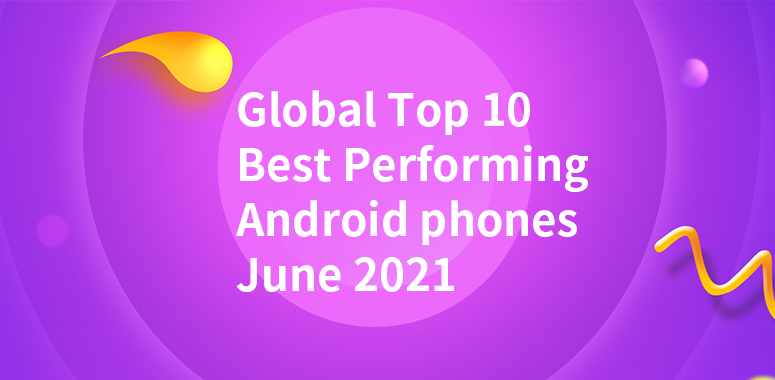 Anyway, Antutu has released the global Android phones performance ranking list in June today. Let's take a look at the specific data below.
The data was collected for a period from June 1 to June 30, 2021, with the results in the ranking list being average scores instead of the highest ones, and there are more than 1,000 pieces of information on a single phone model. The data was calculated based on Antutu V9. If any single phone model has several memory capacity versions, the version with the highest score shall prevail.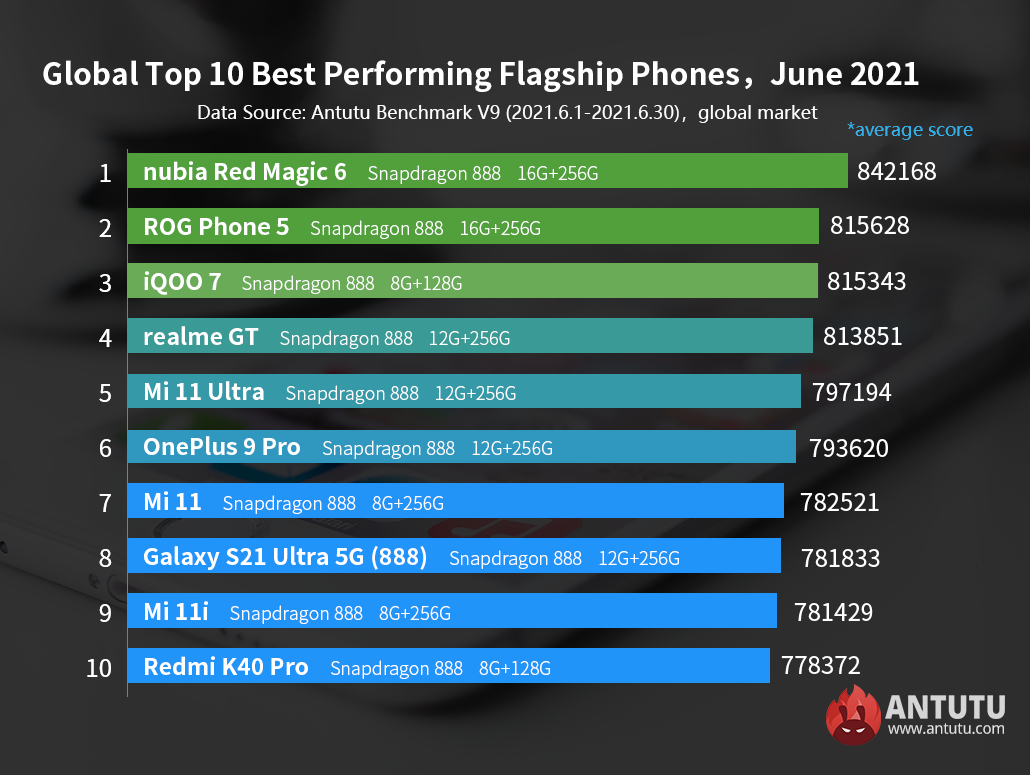 1. Flagship Phones
No.1: Nubia Red Magic 6
Average score: 842,168
Last month RealMe's flagship product, the RealMe GT, won the top spot in the global Android performance list for the first time, but in June it was replaced by another previously unranked device, ZTE Nubia Red Magic 6.
The average score of the Nubia Red Magic 6 in June was 842,168, which was about 20,000 higher than that of the RealMe GT last month. Although using the same Snapdragon 888 processor as the RealMe GT, the Nubia Red Magic 6 is equipped with 16 + 256G of large memory and storage space, plus a 165Hz refresh rate, which guaranteed its high-performance scores.
As a game mobile phone with a strong sense of design, the Nubia Red Magic 6 also has a fancy built-in fan for heat dissipation, which is very practical for this year's Snapdragon 888 processor, the gradual change style glass back is also the favorite of game players.
No.2: ROG Phone5
Average score: 815,628
The ROG Phone 5, which was often in the top three of the list, ranked second this time, Improved one ranking from last month.
The average score of ROG Phone 5 was 815,628, which was basically the same as that of last month. Although both ROG Phone 5 and Nubia Red Magic 6 are equipped with Snapdragon 888 processor and have 16 + 256G of storage space, The average score of ROG Phone5 was lower by more than 30,000 points, from which we can see that Nubia is doing better in this aspect.
The Nubia Red Magic 6 was better than ROG Phone5 mainly in 3D scores, which was more than 10,000 points higher. But the scores are just for reference, the users will not feel the difference during use since both the two mobile phones are top-level.
No.3: iQOO 7
Average score: 815,343
Compared with the top two game phones, iQOO7, as a mobile phone mainly focuses on performance, ranked third with an average score of several hundred points lower than ROG Phone 5, which was already a very strong recognition.
Snapdragon 888 processor + LPDDR5 + UFS 3.1 + 120Hz refresh rate + 120W fast charger, iQOO 7 has the strongest combination at present. We couldn't find out its shortboard. And compared with the price of the top two game phones, its starting price is only less than 4,000RMB.
Following them, the seven phone models were respectively RealMe GT (average score: 813,851), Mi 11 Ultra (average score: 797,194), OnePlus 9 Pro (average score: 793,620), Mi 11 (average score: 782,521), Galaxy S21 Ultra 5G (888) (average score 781,833), Mi 11i (average score 781,429), Redmi K40 Pro (average score 778,372).
The top ten 10 Android mobile phones in June were still all equipped with snapdragon 888 processors, and the competition was extremely fierce, the mobile phones that had been on the list before can no longer be seen, such as OPPO Find X3 Pro. In general, the choice of the market determines the achievements of Qualcomm. In terms of Android mobile phones, Qualcomm's dominance is still unshakable.
2. Mid-range Phones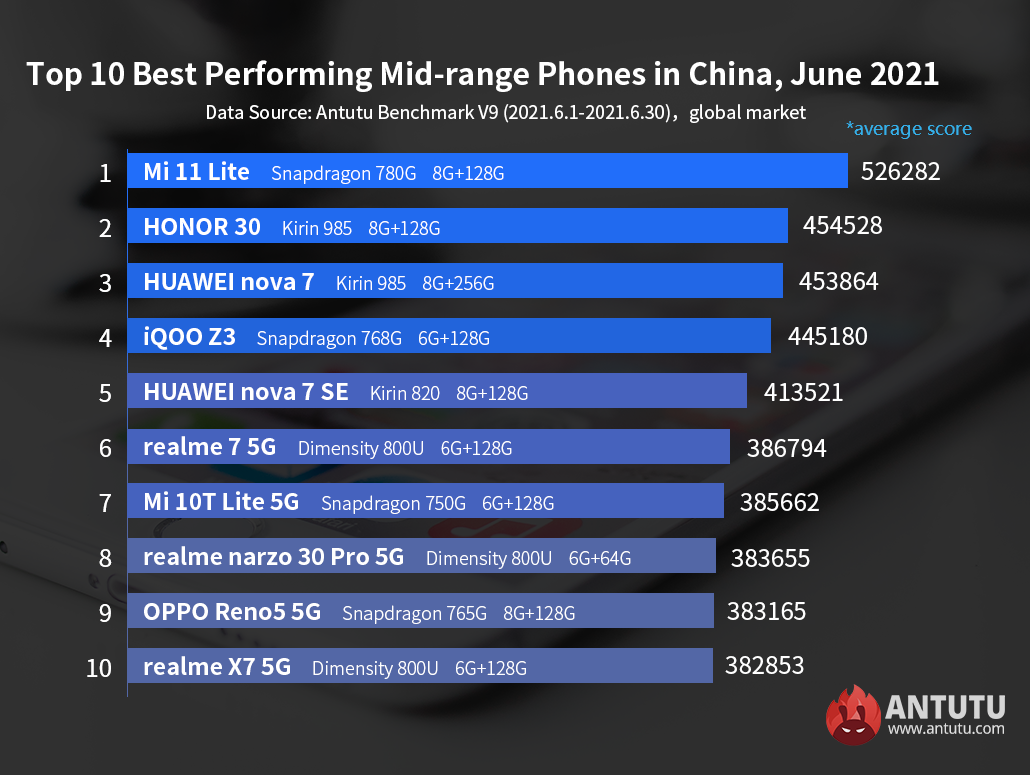 Last month, the mid-range market finally changed with the launch of the Mi 11 Lite, but this month it's been quiet again, with the data and rankings basically the same as last month.
No.1: Mi 11 Lite
Average score: 526,282
Mi 11 Lite is the only mobile phone equipped with snapdragon 780G in the market. It has been several months since the launch of this mobile phone. However, it is strange that there are still no new products of other brands equipped with this processor being launched. Apprently, Xiaomi didn't sign any exclusive period with Qualcomm. The only explanation should be the chip production capacity. Since the profits of flagship chips are higher and the demand is greater, it is natural to focus on flagship products first.
Snapdragon 780G is the upgraded version of Snapdragon 768G. The specific configurations are 5nm flagship technology and nearly half performance improvement. In terms of parameters, it is built with Samsung 5nm LPE technology, and the setup is upgraded to 1+3+4. The CPU is composed of a prime Cortex-A78 core at 2.4GHz, three Cortex-A78 cores at 2.2GHz, four Cortex-A55 cores at 1.9GHz.
In addition, HONOR released a mobile phone equipped with Snapdragon 778G, HONOR 50. We can tell from the name that it is basically the same level as Snapdragon 780G, but it is not on the list this month - Maybe we can see it next month.
No.2: HONOR 30
Average score: 454,528
No.3: HUAWEI nova 7
Average score: 453,864
HUAWEI Nova 7 and HONOR 30, the two mobile phones equipped with Kirin 985 processors, were still ranked second and third respectively. Their configurations are basically the same, so their scores are almost the same.
Following them, the seven phone models are respectively iQOO Z3 (average score: 445,180), HUAWEI nova 7 SE (average score: 413,521), RealMe 7 5G (average score: 386,794), Mi 10T Lite 5G (average score: 385,662), RealMe narzo 30 Pro 5G (average score: 383,655), OPPO Reno5 5G (average score: 383165), RealMe X7 5G (average score: 382,853).
In this June's Android Mid-range phone performance list, iQOO Z3 ranked fourth with an average score of 445,180. It is equipped with the snapdragon 768G processor released by Qualcomm last year. Such a product with an old processor could still rank fourth in the list, it can be seen that this year's mobile phone chip market is in an unprecedented state of scarcity, hopefully, the problem of production capacity could be solved as soon as possible.
The above are global Android phone performance rankings in June 2021. See you next month.