Global Top 10 Best performing iOS Devices in June 2021
With the release of the two M1 iPad Pro models, the iOS performance rankings changed dramatically last month, and the highest score was even higher than 1 million. There was no doubt that the top two in June would also be these two new M1-powered iPad Pros.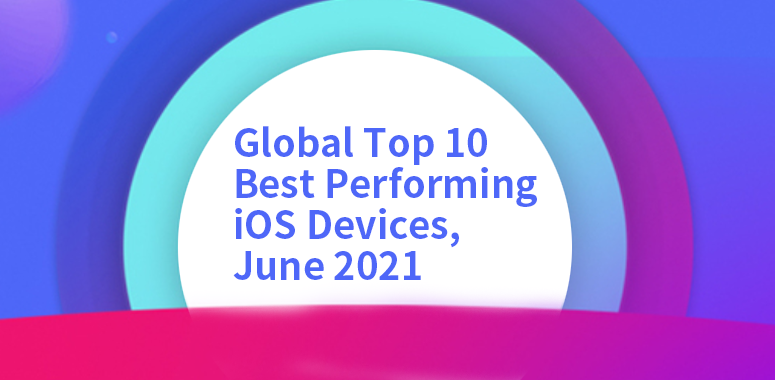 Let's take a look at the specific ranking and scores. This iOS performance list is still based on AnTuTu V8 version.

It should be noted that figures in this ranking list were calculated from June 1 to June 30, 2021. The results in the ranking list are average scores instead of the highest scores, and thus more representative.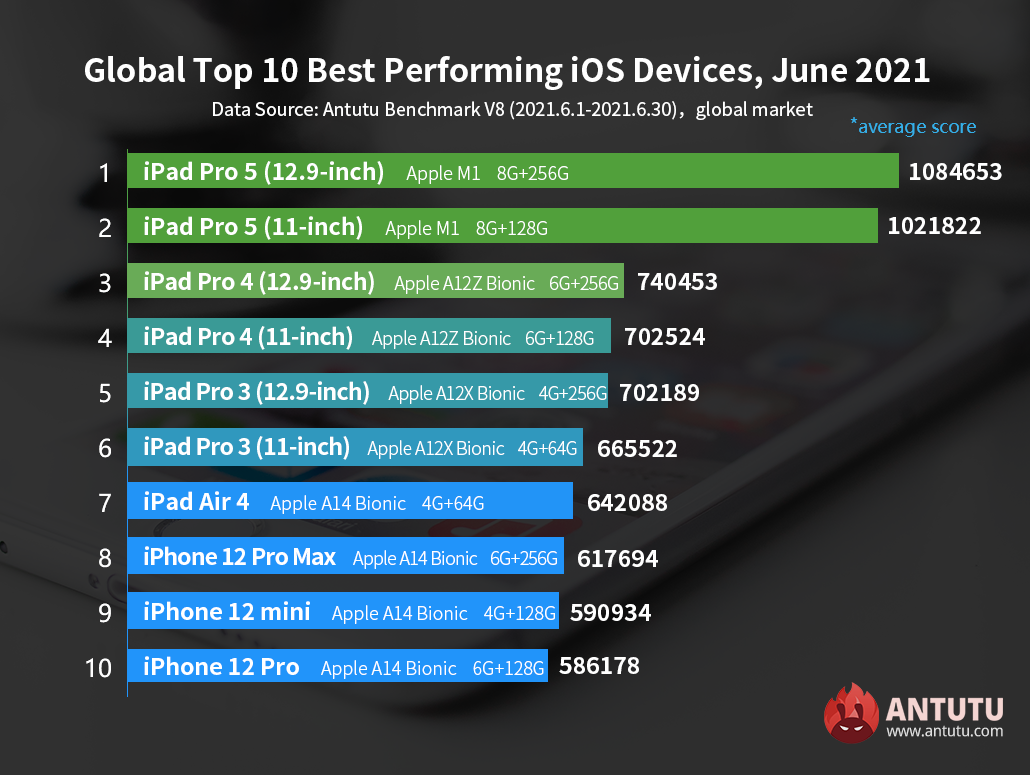 No.1: iPad Pro 5 (12.9-inch)

Average score: 1,084,653

The latest generation of the M1 iPad Pro continued to beat the old flagship iPad Pro 4 with an average score of 1,084,653, the score was slightly lower than that of last month though.

In addition, some users commented that their top-end iPad Pro 5 with 16GB + 2TB of storage could reach 1.16 million points. Such a performance is convincing considering the increase in memory and storage space, which also proved the power of the M1 chip.

It is said that an updated version of the M1 chip, M1X, is expected to be released this year, but might not be available on the iPad products. However, if that's true, being on the iPad products is only a matter of time, and we wonder what its score going to be by then.

No.2: iPad Pro 5(11-inch)

Average score: 1,021,822

The iPad Pro 5 (11-inch) is another iPad Pro 5 with a smaller screen. With the same configurations, the overall scores of the two devices were similar and both above 1 million. The product was released to give users one more option - if people think the 12.9-inch screen is too big for them, they can easily change to this equally powerful device.

No. 3: iPad Pro 4(12.9-inch)

Average score: 740,453

The average score of the old flagship iPad Pro 4 was 340,000 points lower than the first-place iPad Pro 5. Although the A12Z is still not weak and the product has no problem in use, it could only be ranked behind the two new iPad Pro products with a more powerful M1 chip.

The following seven products are iPad Pro 4 (11-inch) with an average score of 702,524, iPad Pro 3 (12.9-inch) with an average of 702,189, iPad Pro 3 (11-inch) with an average of 665,522, iPad Air 4 with an average of 642,088, iPhone 12 Pro Max with an average of 617,694, iPhone 12 mini with an average of 590,934, iPhone 12 Pro with an average of 586,178.

As we said when we released the iOS performance ranking list last month, since the M1 chip is super powerful, the two M1 iPad Pro products will likely remain at the top of the list for a very long time. The prophecy has begun to be verified in this first month after May, and we will see if Apple will bring any new products to surpass them in the next year.