Global Top 10 Best Performing Android Phones, August 2021
Normally, mobile phone manufacturers will just release the updates of some mid-range products in June and July. The real highlight began in August. Until now, several brands in the domestic market have released new devices equipped with Snapdragon 888 Plus processors, and the brands that have not released the devices have also announced the time of the new product event.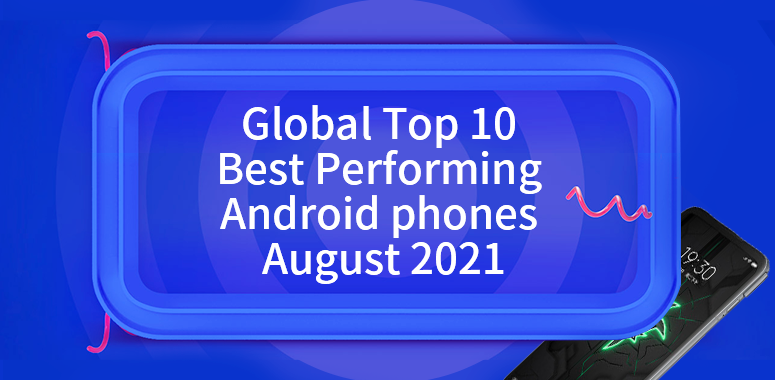 Therefore, there is no big change in the flagship phones in this list, which are still dominated by Snapdragon 888 processor phones. The new phones equipped with Snapdragon 888 Plus are not included in the list because their performance is not up to the standard at present, and it should appear in the list next month. In addition, the ranking of mid-range phones, which has always been very stable, has finally changed.

Let's take a look at the specific data below. It should be noted that figures in this ranking list were calculated from August 1 to August 31, 2021. The results in the ranking list are average scores instead of the highest scores, and thus more representative.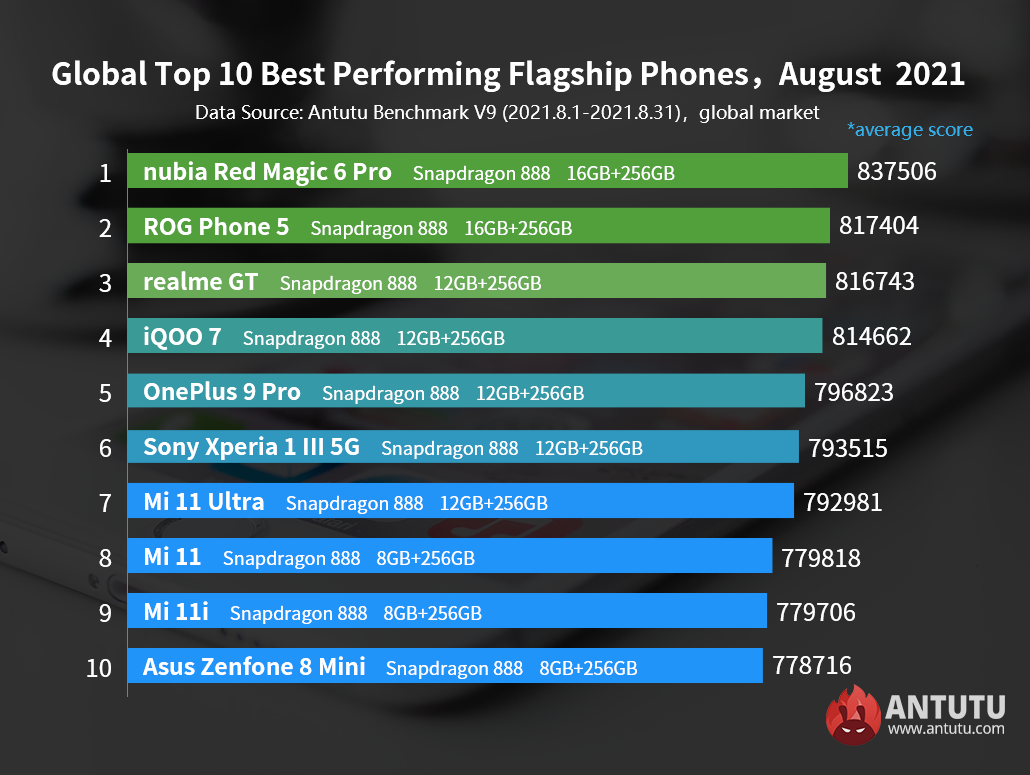 No.1: Nubia Red Magic 6 Pro

Average score: 837,506

Nubia Red Magic 6 Pro, one of the most famous mobile phone products for games, achieved an average score of 837,506 with the super combination of Qualcomm Snapdragon 888 + 16GB RAM + 256GB ROM and also ranked first in the global Android phone performance list in August.

The 16G RAM carried by this mobile phone is the second-largest mobile phone storage capacity in the world. The first is the 18G RAM of ASUS ROG Phone 5 Ultimate. However, 18G RAM has not been widely used, and there are more and more mobile phones with 16G RAM.

Nubia has recently announced that it will release a new game phone Nubia Red Magic 6S Pro equipped with Snapdragon 888 Plus processor on September 6. We believe that this phone can continue to reach a new high in running points.

No.2: ROG Phone 5

Average score: 817,404

ROG Phone 5 is also one of the game phones and used to ranked first from the release to the withdrawal, but now it seems that the domestic brands are having very fierce competition in performance, so even the ROG Phone 5 is rank behind Nubia Red Magic 6 Pro. The two phones are very similar in terms of configuration, both of which are a combination of Snapdragon 888 + 16G RAM +256G ROM. There are only slight differences in the focus of games. Both are top products and provide excellent user experience even with different scores.

No.3: Realme GT

Average score: 816,743

The product line of Realme GT comes from OPPO's ACE series. OPPO handed over this brand to Realme because it is highly similar to Realme products and focuses on the cost performance of games.

This mobile phone has both the strength of the ACE series in performance and the low price of Realme itself, in addition, it lowers the price of Snapdragon 888, which is greatly beneficial to users. The rankings also attest to its good performance. Even though it is not marketed as a game phone, it is only 661 points behind the average running score of the game phone ROG Phone 5, which is quite impressive.

The following seven products are iQOO 7 with an average score of 814,662, OnePlus 9 Pro with an average score of 796,823, Sony Xperia 1 III 5G with an average score of 793,515, Mi 11 Ultra with an average score of 792,981, Mi 11 with an average score of 779,818, Mi 11i with an average score of 779,706, Asus Zenfone 8 Mini with an average score of 778,716.

The last-place Asus Zenfone 8 Mini is worth mentioning. In the current mainstream of 6.5, 6.7, or more large-screen mobile phone market, this mobile phone selects a 5.92-inch screen and has won praise from many users who like small screen mobile phones. Its performance is also very powerful equipping with Snapdragon 888 processor, which is no different from those with large screens. Users can get a better experience because of the lightweight small screen.

The mid-range mobile phone ranking has finally changed with the emergence of mobile phones equipped with Snapdragon 778G processors. The specific running score and ranking are as follows.



No.1: Realme GT Master

Average score: 539,072

Realme GT Master is a new product jointly created by Realme and the famous Japanese designer Naoto Fukazawa. The design focuses on the back shell of the mobile phone. Realme GT Master adopts the phone shell design similar to Muji's classic suitcase, which is rare and representative in the current mobile phone appearance design market, and it is also an innovation in the appearance of Realme.

In terms of performance, Realme GT Master is equipped with the Snapdragon 778G processor, which is the updated version of Snapdragon 780G and was first launched by Honor 50 series phones. The two processors have similar performance, Snapdragon 778G appears because Snapdragon 780G was monopolized by Mi 11 Lite due to insufficient supply.

The Snapdragon 778G was launched in May this year. It is built on TSMC's 6nm node and brings an 8-core Kryo 670 CPU. The maximum dominant frequency is 2.4GHz. The CPU performance claims to be improved by 40% compared with the previous generation. The GPU is Adreno 642L, which also has a 40% performance increase.

No.2: Mi 11 Lite

Average score: 524,133

The Mi 11 Lite equipped with Snapdragon 780G processor is ranked second this time due to the emergence of Snapdragon 778G. The difference between the two processors is very small and the average score is very similar. The difference in score is mainly reflected in UX, the screen of Realme GT Master supports a 120Hz refresh rate, while Mi 11 Lite only supports 90HZ.

Both the Mi 11 Lite and Realme GT Master are not featured by performance, but by design. They both have a good appearance and texture, combined with a good processor, enough to appeal to users who are not so sensitive to performance.

No.3: HONOR 30

Average score: 450,879

The third place went to the familiar HONOR 30 with the Kirin 985 processor, with an average running score of 450,879, which is not bad in the mid-range market. However, the new Honor 50 is also equipped with the same Snapdragon 778G as Realme GT Master, if conditions permit, it would be better to choose the new product.

The following seven products are HUAWEI nova 7 with an average score of 449,517, OPPO Reno6 5G with an average score of 447,066, HUAWEI nova 7 SE with an average score of 418,144, Realme 7 5G with an average score of 409,651, Realme Narzo 30 Pro 5G with an average score of 394,105, Mi 10T Lite 5G with an average score of 385,635, Realme X7 5G with an average score of 383,018.

That's all for Global Android Performance Rankings for August 2021. In general, there is no big change in the ranking and models of flagship mobile phones. The mid-range phone market has finally ushered in new models. There will be more new products equipped with Snapdragon 778G in the future. The new products with Snapdragon 888 Plus will also be released one after another. The list next month should be more worth waiting for.