Global Top 10 Best Performing iOS Devices in September 2023
The figures in this ranking list were calculated from September 1 to September 30, 2023. The results in the ranking list are average scores instead of the highest scores. The configurations listed are those with the most test results for each model.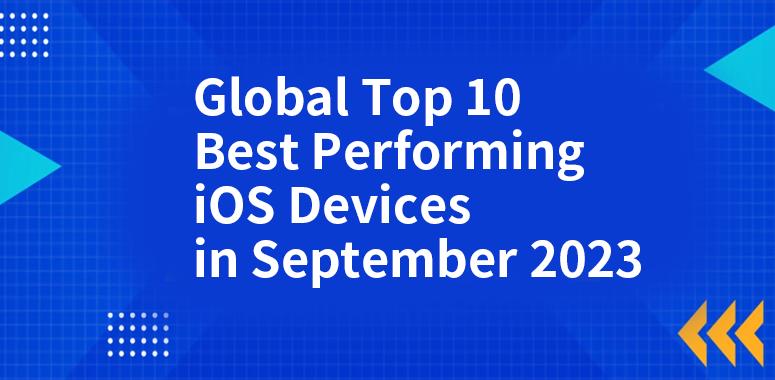 Please note that the tests for Android and iOS devices use different graphics technologies, so scores from the two platforms cannot be compared.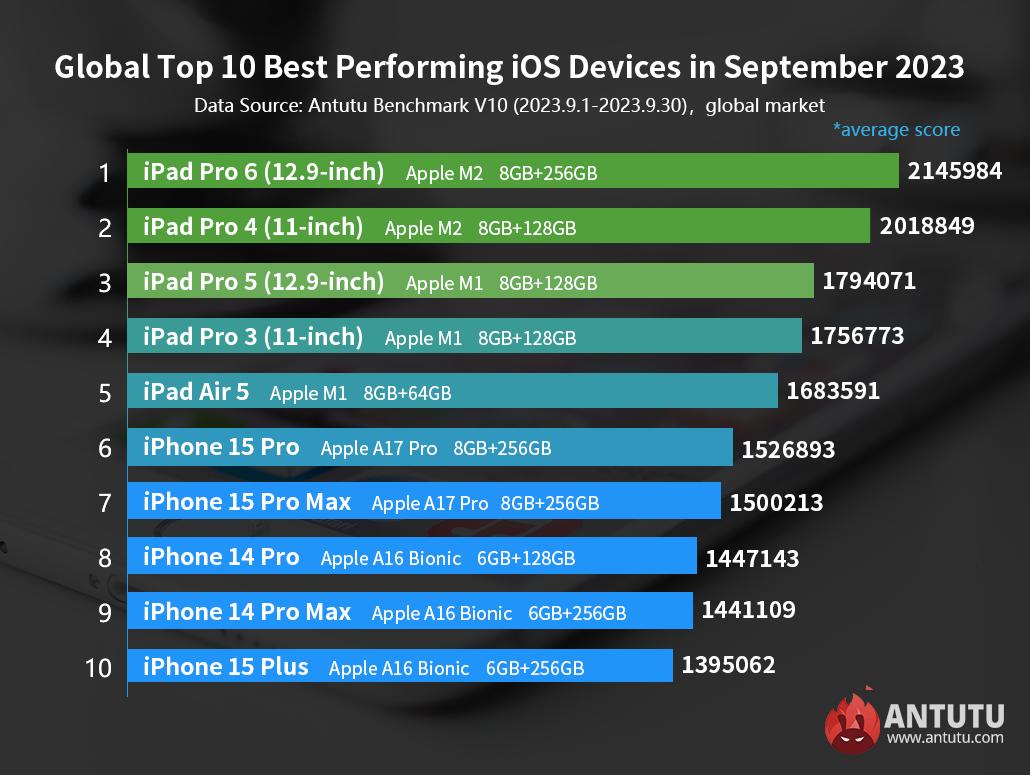 No.1: iPad Pro 6 (12.9-inch)
Average score: 2,145,984
No.2: iPad Pro 6 (11-inch)
Average score: 2,018,849
No.3: iPad Pro 5 (12.9-inch)
Average score: 1,794,071
---
The iPhone 15 Pro series just released in September has officially entered the iOS performance rankings. However, unlike previous expectations, the A17 Pro with 3nm process technology on the two iPhone 15 Pro models still failed to beat the performance of the iPad Air 5. The M1 chip, even compared to the A16 of the two iPhone 14 Pro models, only has an improvement of 6W points. This may be due to the poor heat dissipation of the iPhone 15 Pro model.
In addition to the top 10 that were listed on the performance list, the devices that ranked 11th through 20th were:
iPhone 15:1,367,653
iPhone 14 Plus:1,310,615
iPhone 14:1,304,206
iPhone 13 Pro:1,303,546
iPhone 13 Pro Max:1,302,963
iPad mini 6:1,268,478
iPhone 13:1,235,581
iPhone 13 mini:1,217,964
iPhone SE3:1,163,257
iPad Pro 3 (12.9-inch):1,135,026
---
Here is an excerpt of the iOS performance list for you. Interested friends can search the AnTuTu official website or click "Ranking" to view the complete list.